Students Remember Ashley Roth One Year After her Passing
LA PUENTE — November 27 marked the one year anniversary of the passing of Ashley Roth, a member of the class of 2019, a varsity soccer player, and an amazing friend to many.
On Monday, Bishop Amat Chaplin Father John Montejano hosted a rosary to celebrate Roth's entrance into the heavenly kingdom. In attendance were her mother, many of her former Sacred Heart classmates, teachers, teammates and many of her friends.
"I cannot believe it has been one full year," senior Robert Cortez said.
This rosary, filled with many tears, was a time for Roth's loved ones to reminisce and pray for her soul.
"I think we should be remembering the person, she was a wonderful spirit," senior Isabella Mayorquin said. "I used to walk home on Orange, and she was always there to ask me how my day was. Although I had known her since Kindergarten, seeing her every day was something nice to look forward to."
Many of her closest friends shared many of their favorite moments and memories of her.
"Every single time we had the chance to talk, it would be one of those talks that you pick up where you left off," senior Caitlyn Ortega said. "It's crazy because one or two weeks before she passed, we had just been walking together and she was telling me all of her problems and I was doing the same."
"One thing I would always tell her was that she smelled like green tea. I think it was the grass because she was a soccer player," she added.
Many of Roth's classmates at Amat also went to school with her at Sacred Heart in Covina.
"The thing I remember most about Ashley was her joyful personality," said Robert Cortez, one of Roth's Sacred Heart classmates. "One of my favorite memories was throwing around her zebra pencil pouch, which was almost broken, to see if it would break. I always just thought that it was super funny."
At the conclusion of the rosary, Roth's mother spoke a few short words and thanked all students, teachers, and coaches for attending.
Many of Roth's friends had an opportunity to chat and embrace Mrs. Roth, who was giving out bracelets in Ashley's honor.
Many of her friends and teammates are left with the legacy Roth leaves on their lives.
"She was just such a radiant person to be around," Mayorquin said. "She has been such a positive light, in my life, I am sure in many of her other friends' lives and in people who have known her or have heard of her."
Ortega echoed these sentiments.
"She is a very positive soul. We are all going to miss that. I hope that she is looking down on every single one of us and we will try to move on in her name," she said.
Cortez added that Roth will be with him wherever he goes.
"She is in a better place," he said. "I miss her a lot, but I always know that she is always looking over me, my family, and my friends. I wish that she was here to graduate with us this year."
About the Contributor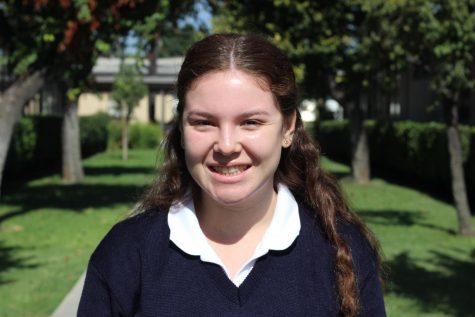 Madison McCaffrey, Sports Reporter
Class of 2019

Favorite Song: Long Live by Taylor Swift

Activities: Spending Time with Friends and Family, Working at Marshall's