New band director has high hopes for the program
Hang on for a minute...we're trying to find some more stories you might like.
Mr. Christian Banas is very fluid. One day, he is shaking the hands of prospective students at Open House; the next, he helps Mr. Davitt learn his rally dance choreography.
"He's a very go-with-the-flow type of guy," said senior David Ybarra.
As the band director replacing Mr. Nick Pulido, Mr. Banas must go with the flow.
According to him, the attitude toward the band here is drastically different from the attitude at Rowland High School, his former workplace.
"I don't want to say it's bad or anything," he said. "I was so used to band actually being the cool thing. And now, coming here, it's like, 'Oh, you know, band's a little bit on the back side,' which is fine."
But he says he's determined to change this.
"I'm here to make it much better," he said.
Mr. Banas said other band directors call him crazy because he likes to dream big.
He explained how he wants the band to compete nationally, in places like Utah, Texas, and Indiana, the "marching band state of the nation."
He also wants to take a trip to Disneyland during Christmas and create independent groups, including two jazz bands, a winter guard, and a drumline.
But Rome wasn't built overnight, and neither will Mr. Banas' ideal band.
Currently, he's implementing small changes, starting with recruiting more members
For some recruits, he just asked if they would join band. For others, like sophomore Destiny Muro, he resorted to tricks.
"One day, after Instruments class, my third period, Mr. Banas was like, 'Hey, you should come here after school.' And I was like, 'Okay.' So I did," Muro said. "Next thing you know, I'm practicing."
Once the band grew larger, Mr. Banas began introducing his ideal positive mindset and highlights band members displaying this attitude.
"It's taking awhile for each person in band to get the mindset," said sophomore Marissa Rodriguez, "but once we get the mindset, I know for sure that we'll be unstoppable."
Members believe this presents an opportunity to promote much needed positivity in the program.
"The concept he has, like, building band is something that we've kind of needed for a while," said senior Omar Gomez, the band's drum major.
So far, Mr. Banas' reforms have changed the band's musicality.
"When Pulido was here, I was always stuck with the same type of music and I wasn't really allowed to mature within the band itself, " said Ybarra. "I would never really practice at home, so the PAB was basically the only place I had to hone my music skills."
Gomez, who used to be in the Instruments class, also believes Mr. Banas has helped him improve.
"He's tried to change the way I play because he says I come up with the wrong embouchure or something wrong with my playing, so it's, like, a big improvement," Gomez said about how he places his lips on his mouthpiece.
Even non-band students and faculty agree that, under Mr. Banas, the band has come a long way.
Rosie Sahagun, a choir senior, admits that the band performs way more energetically.
"Every time drumline is on, I always feel like I'm jamming out," she said.
Mr. Davitt, a friend of Mr. Banas and Mr. Pulido, commented that the band program is improving.
"Unfortunately, I don't know much about music, but the games and the rallies, it seems good," he said. "I still talk to Mr. Pulido from last year, and he said it sounds good too."
Still, Mr. Banas' plans for the program are not set in stone. He'll listen to the complaints and suggestions from his students and colleagues.
"Everyone wants to help you out, so don't be shy if you need something," Mr. Davitt said.
"And if you don't," he said, "then that's fine."
This Saturday, Mr. Banas is directing his first winter concert at Amat in the Carroll Center at 7 p.m. Tickets are on sale now, with bleacher seats at $5, general table seats with food at $15, and front seats with food at $20.

About the Contributor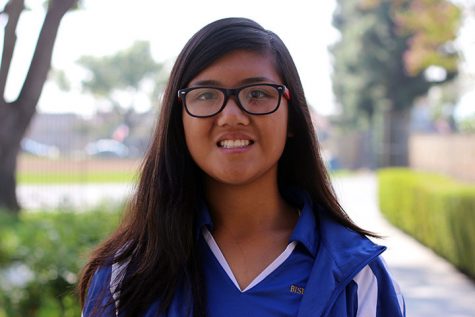 Celine Mendiola, Staff Writer
Class of 2019

Favorite Musical: Les Miserables