Lady Lancers win second league meet; boys place second
LA MIRADA — Spectators of the race were squinting their eyes, peering into the distant grove of trees for any sign of a first place finisher.
Suddenly, a figure clad in royal blue appeared amidst the sea of evergreen.
As far as the eye could see, no other runner was behind or in front of her. It was just senior Trinity Ruelas and the bright blue pennants of the finish line ahead.
With a steady pace and a determined look on her face, Ruelas sprinted past the finish line, finishing first place at 17:26 leading the Lady Lancers to a first-place finish last Wednesday at the Camino Del Rey meet at La Mirada Regional Park.
Junior Sabrina Lucio and sophomore Gabbie Rivera paced each other the whole race, finishing in third and fourth, respectively. Junior Ashley Gomez was not far behind Rivera, finishing in sixth at 19:38.
Freshman Jazmyn Acosta was unable to keep up with the rest of the team due to a sudden pain in her knee, but she endured the pain until the end. She finished 32nd at 26:15.
Meanwhile, the boys' team finished in second place overall, falling short of Cathedral by 41 points.
Junior Angel Arellano was the Lancers' top finisher and placed sixth at 16:00.
Fellow junior Timothy Ruelas and senior Chris Orozco placed 10th and 13th at 16:27 and 16:30, respectively.
Senior Dominic Razo encouraged freshman Jose Reyes to "kick it" and sprint past him as they finished, but Reyes refused to. Razo and Reyes finished 16th and 17th, just two seconds away from each other.
This Friday, the Lancers will compete at the first day of the Mt. SAC Invitational in Walnut.
About the Contributor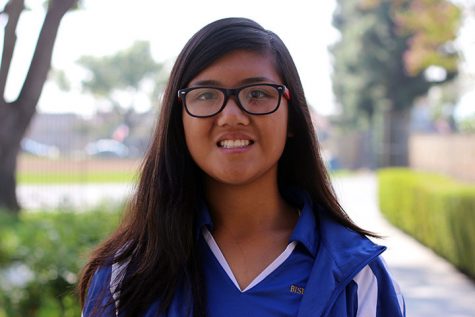 Celine Mendiola, Staff Writer
Class of 2019

Favorite Musical: Les Miserables