AP Studio Art seniors showcase their work
Six AP art students showcased their work to family and peers on April 16 as part of the AP Studio Art curriculum.
Seniors Lisa Brennan, Patrick Cunanan, Marisa Saldana, Casey Santillan, Ariana Munguia, and Larissa Mendoza exhibited their projects, sketches, paintings, and artwork from the entire year, supported by individualized scenery to accompany their theme.
Each student had a specialization for their artwork, with their projects surrounding their focus. For example, Cunanan's specialization was the human anatomy that mimicked the style of famous artist Leonardo Da Vinci. Cunanan's showcase included sketches and paintings of the human body done in Da Vinci's style.
"The focus expressed in all of our themes really emphasizes our individual artistic styles," said Cunanan. "Each of us have our own unique interests and to be able express it through our art really helps us grow as artists."
The exhibit showcased the projects the students have completed since the beginning of the school year. Families and friends went to show their support as the seniors ended the class.
"The exhibit turned out really well," said Fine Arts Department Chair Ms. Rita Fortner, "I'm very proud of the students and what they've accomplished this year."
About the Contributor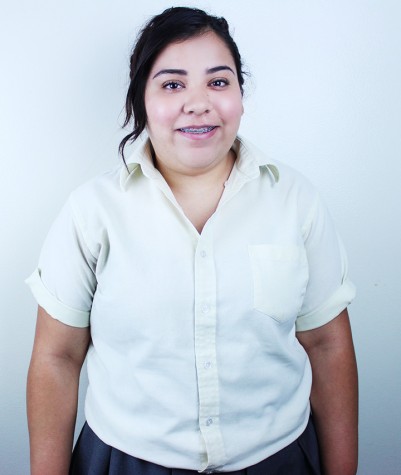 Gisselle Diaz, Staff Writer/Photographer
She enjoys writing and photography, even though it is her first year in Journalism. She is very sarcastic and has a great sense of humor. She also enjoys...